In the domains of Content Management Systems (CMS), two giants stand tall: WordPress and Drupal. In this content, we embark on a journey to conduct a comprehensive comparison between these two leading CMS platforms.
WordPress, renowned for its user-friendly interface and vast plugin ecosystem, powers millions of websites worldwide. On the other hand, Drupal, known for its robust architecture and flexibility, caters to diverse and complex web projects.
Join us as we unravel the strengths, weaknesses, and unique features of both WordPress and Drupal. We delve into their performance, scalability, security, and customization capabilities, equipping you with valuable insights to make an informed decision for your website needs.
Whether you're an individual blogger, a small business owner, or an enterprise seeking a scalable solution, this comparison will shed light on which CMS giant aligns best with your requirements and empowers you to achieve digital success.
As a business, setting up a web presence is challenging, and you can want to set apart a massive preliminary investment.
Even if you opt for an in-house designed system in place of hiring a skilled developer, you'll nonetheless need a reliable Content Management System (CMS).
Do you know?

There are an estimated 64 million websites currently using WordPress. (Source – Creative minds)
While most people are enjoying exploring their favorite websites and material on the internet, a little-known but significant rivalry is taking place among the main online CMSs.
Let's look upon what CMS is the real word of technology and the best content management system of 2021.
What is a CMS Platform?
A CMS (Content Management System) allows you to design, maintain, and change the website content without needing to know HTML or CSS.
Because contemporary CMS platforms are so simple to use, anybody can create a professional-looking website on their own. You also don't need to be a web developer, designer, or have any prior website-building expertise either.

(Source: Builtwith)
A guide to newcomers: WordPress CMS and Drupal CMS
WordPress CMS and Drupal CMS are two popular content management systems.
WordPress and Drupal are the most widely used CMS platforms on the globe. But what sets one apart from the other? Which option is preferable? Is it any easier? Is it more practical? Is it efficient? What are the benefits and drawbacks of utilizing Drupal instead of WordPress?
Despite the fact that each structure allows users to create and manage content across one or more websites, they are vastly different. Your website requirements will determine which CMS is best for you. It's crucial to understand how these platforms work, their strengths, and their capabilities.
First, let's see in-depth about WordPress CMS and Drupal CMS
WordPress CMS Overview
WordPress was designed with marketers in mind from the start, and it offers visual layouts. Well, you can tweak a lot of things in WordPress using templates to quickly get a nice user-friendly website, but it will overall appear the same as all the other pre-built websites out there. It's a wonderful choice if you want something up quickly and easily and isn't concerned with the constraints of what comes out of the box.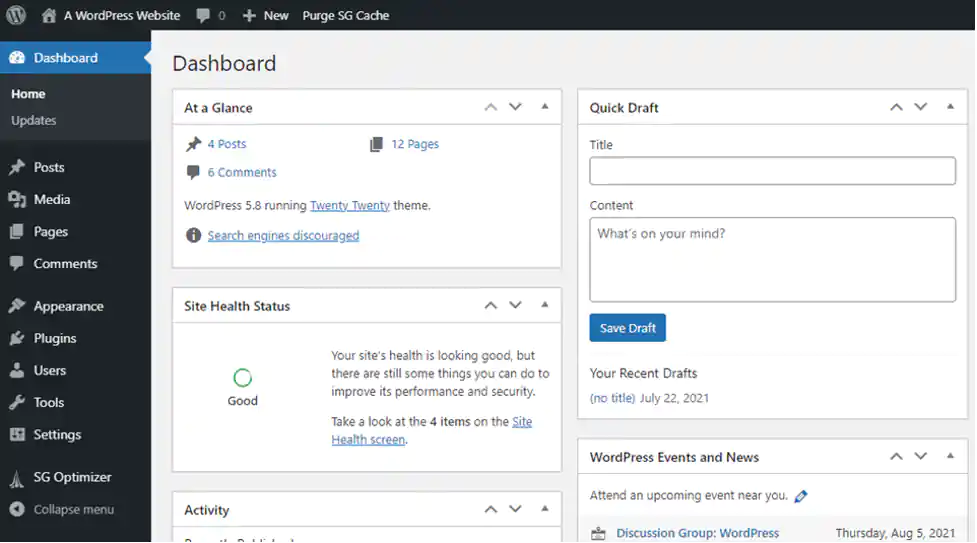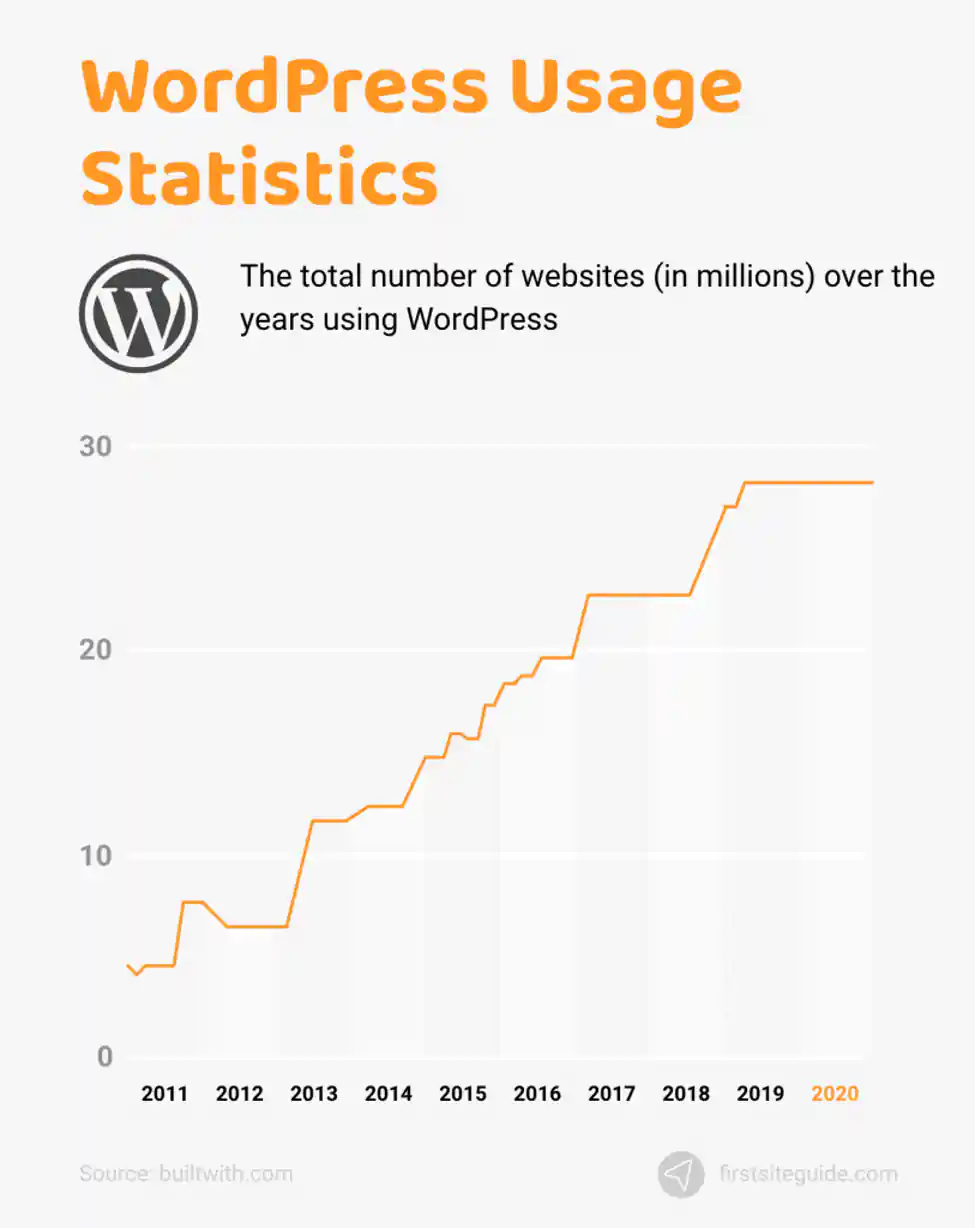 The dashboard is quite self-explanatory and straightforward to browse in general. However, getting a sense of where stuff is and where important settings and choices are located might take some time. It may be aggravating to figure out which options are on the Settings tab, which functions are in Tools, which options are in the Theme Customizer, and which are in the theme or plugin settings itself, but in the end, it's worth doing it.
As you engage the platform, the misunderstandings will eventually be resolved. However, you may get a little agitated while using it for the first time.
However, WordPress has a moderate learning curve, and even those with limited technical skills may find user-friendly themes and plugins to aid in the creation and maintenance of their platform website.
Drupal CMS Overview
Instead of being a fully pre-built solution, Drupal is more of a framework than a completely pre-built solution for webmasters to provide them with the freedom to say yes to all of the frequent custom requests that come up as your website scales to meet the growing number of user functionality requirements.
Drupal separates content from design, ensuring that material is not confined to a single location. The options are unlimited when you add blocks, themes, and layouts to the database drive content, but it takes longer to start.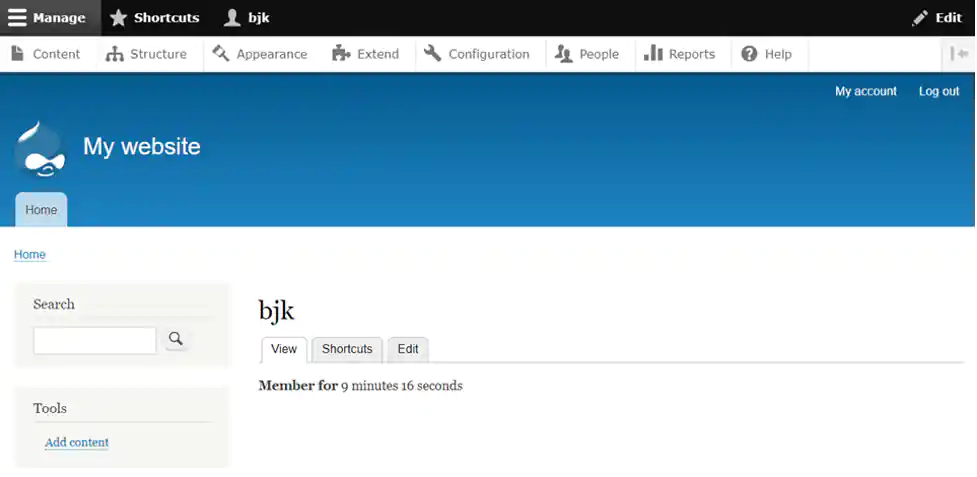 Drupal CMS
The drawback of this consolidation is that accessing any of these settings requires a little more technical knowledge than that using WordPress. If you're new to Drupal and have no prior web expertise, the UI and vocabulary might be intimidating. Learning and utilizing Drupal is a major step up from other systems like Joomla if you're used to various web admin back-ends.
So, what do the numbers say about WordPress?
WordPress is used in over 178 countries.
WordPress is responsible for 39.6% of the internet's traffic.
This value has increased by about 5% since 2020 and is up by 4% from 2019.
(Source: Hosting Tribunal)
WordPress Ease of Use And Learning Curve
It's a lot easier to get from "nothing" to a "fully functional website that looks excellent" using WordPress.
Furthermore, even the most inexperienced users may rapidly understand the WordPress interface. And elements like the WYSIWYG Theme Customizer and the upcoming Gutenberg editor make it much easier for casual users to create meaningful and distinctive content.
Drupal Ease Of Use And Learning Curve            
You're dealing with the polar opposite with Drupal. While Drupal themes are available, the majority of Drupal websites use a custom-coded or heavily modified theme. That means you'll almost always require a developer to get anything that looks decent.
Aside from that, the Drupal interface, at least, at first sight, is confusing to most users and developers. While it is useful on a basic level, it is not the most user-friendly content development experience available, especially when compared to WordPress.
What are some Of the advantages Of WordPress And Drupal?
Considering Possible Alternatives
There are several significant differences between WordPress and Drupal to consider when determining which platform is best for your company:
WordPress and the Security Problem
WordPress is a safe foundation. It's impossible to become the world's most popular CMS on an insecure foundation — it's simply not possible.
While WordPress is secure in and of itself, the number of third-party plugins that website owners employ might leave security holes. The vast majority of WordPress hacks and breaches are caused by plugin developers and site owners who take security for granted.
The security issues with WordPress are primarily due to users and third-party developers, rather than the CMS itself.
WordPress is secure, but users must understand how to utilize plug-ins and follow security best practices. It uses security pathways to uncover any flaws in its design and releases an update when one is discovered. It is, however, the user's job to install the updates that are made available to them.
The CMS does everything it can to keep you safe, but it's only as safe as you make it.
Drupal and The Security Problem
Drupal is a very secure platform.
Do you know?

Drupal is used by some of the most data-sensitive websites, like Tesla and NASA.
Drupal's code is secure and updated regularly. Drupal's community produces exceptionally secure modules and add-ons, owing to their stated experience with coding; compared to the bulk of CMS systems, Drupal's community examines modules with a higher degree of care.
As a result, it doesn't have the same level of third-party security issues as systems like WordPress. This does not, however, imply that Drupal is without flaws. The appropriately called "Drupalgedden" is a bug that appears on the platform regularly. This problem exposed over a million websites, and even after they were patched, a large part of them remained accessible.
In terms of security, Drupal may have an edge over WordPress, but the choice is mostly up to the user.
The core software of WordPress and Drupal are both very safe, however, they are both prone to a specific assault, and WordPress's issues are primarily due to plugin developers.
Speaking about the end-user experience
For non-technical users, WordPress is recognized for being extremely user-friendly and simple to use and maintain. The numerous themes and plugins available provide this feature out of the box.
While Drupal isn't known for its user-friendliness, it is possible to create a user-friendly backend with it. Because Drupal's structure is equivalent to a fresh page, admin panels and processes must be designed and prepared in advance.
Keep in mind that the more complicated your site or application is, the higher the learning curve to administer it will be.
A competent development partner can assist bridge the gap between customization and usability.
Let's talk about the Price
While all platforms are open source and free to use, regardless of which one you choose, you will have to pay some upfront charges to get your website up and operating.
You'll need to spend money on domain registration, hosting, premium themes, and plugins, as well as additional security and labor.
WordPress is the greatest option for people who want to develop their websites with little or no aid from an outside firm. It's simple to learn and use, and there's a large selection of templates and modules (both free and for paid) to pick from.
Speaking about the Cost
While all systems are open source and free to use, regardless of the one you choose, you will have to pay some upfront costs to get your site up and running.
You'll need to spend money on domain registration, hosting, premium themes, and plugins, as well as extra security and manpower.
WordPress is the greatest option for people who want to develop their websites with little or no assistance from a third party.
It's simple to learn and use, and there are a lot of templates and modules to select from the free and paid version, the choice is yours.
Even if you don't want to develop the site yourself, WordPress is the more cost-effective option. WordPress sites are generally a good idea and provide more creative solutions, lowering down the development part, hosting part, and maintenance expenditure.
Drupal is a better option if you want a more personalized solution that can develop and change over time, while the creative solution is typically difficult to adapt.
Finally, it comes down to your immediate and long-term requirements, as well as how much you're willing to invest.
Making a final choice
Which platform you pick is ultimately determined by your response to the following question: What are you attempting to accomplish?
The greatest CMS for your business is one that fits your budget, performs as expected, meets your users' technical ability, provides solutions that are as complicated or as basic as you want, and so on.
Are you looking for a powerful and complex solution? Then Drupal is the best choice.
If you know your needs will be complicated and your website will require robust features, it's worth investing in Drupal from the start. Although it may take longer to develop, the time and money invested will be well worth it.
Are you looking for a low-cost, big investment? Then WordPress is the best choice.
WordPress is quite cost-effective and allows for some customization in the future. WordPress is a great place to start if you're just starting with a marketing website or aren't sure what the future holds.
Are you looking for a prioritizing Usability over Custom functionality? Then WordPress is the best choice.
WordPress is the greatest alternative for people who want an easy-to-use site with creative capabilities, regardless of their web development experience.
Are you looking for a secure solution? Then Drupal is the best choice.
Because of their market dominance, WordPress sites are more targeted than Drupal sites. Themes and plugins for WordPress are less secure than those for Drupal.