In this guide, we explore the ins and outs of Web Content Management Systems (CMS), uncovering their remarkable features and the myriad of benefits they offer.
A Web CMS serves as a powerful tool to simplify the process of creating, organizing, and publishing content on websites. From user-friendly interfaces to seamless collaboration, CMS platforms enable businesses and individuals to manage their online content with ease.
Join us as we explore the key features that make Web CMS stand out, such as content scheduling, version control, and SEO optimization. Discover how CMS empowers you to keep your website fresh, engaging, and up-to-date, leading to improved user experience and higher search engine rankings.
Whether you're a content creator, a marketing professional, or a website owner, understanding the features and benefits of Web CMS will elevate your content management experience to new heights.
Content is rapidly becoming one of the most significant techniques for businesses to communicate with their consumers. The days of content as a "nice to have on the side" are long gone.
However, content is no longer limited to marketing; it has become an integral aspect of companies, affecting nearly every area, including sales, marketing, and development.
Imagine how difficult it would be to publish content on your website or social media if you had to perform all of the coding yourself. Many of us would never consider blogging or digital asset management.
This is where Content Management System(CMS) comes into the role.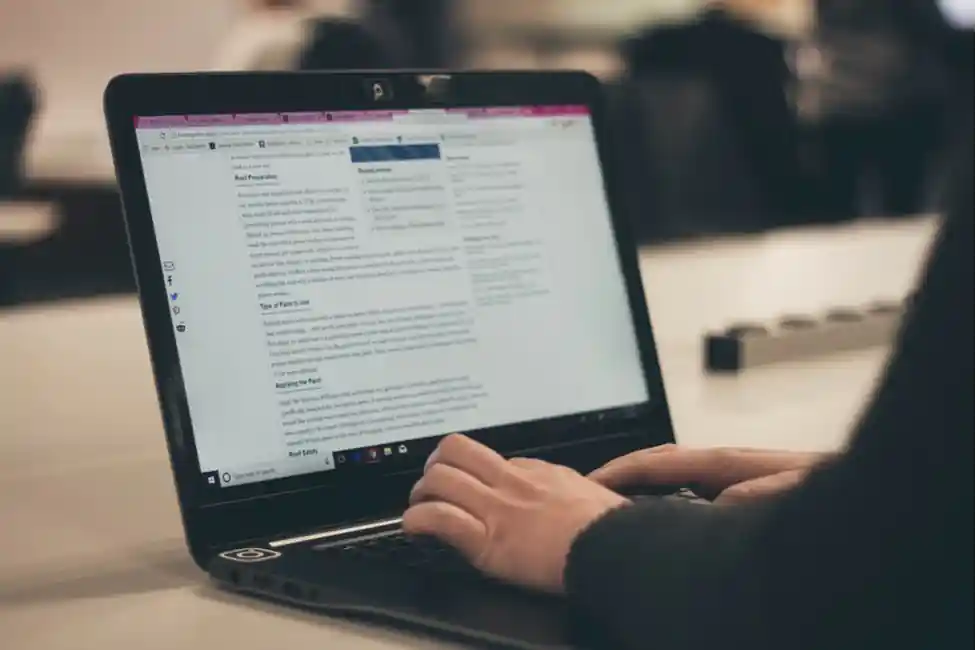 (Image source: Unsplash)
Fortunately, content management software, often known as a content management system (CMS), makes managing content simple and effective for anybody with basic computer abilities. You won't have to learn any programming languages or difficult backend things.
A content management system (CMS) aids in the implementation of a complete content marketing plan and the integration of content into your commerce strategy.
Do you know?
The CMS market will reach $123 billion by 2026. – Source (Review 24)
What is (Content Management System) CMS Platform?
Content Management Software (CMS) is a software platform that enables non-technical or non-programming individuals to develop and manage digital content.
A content management system (CMS) provides a user-friendly interface for interacting with the database that powers a website, allowing users to modify, publish, and distribute information. A CMS also allows users to see their material before publishing it.
Users and content creators can emphasize the customer-facing features of their websites using a CMS, rather than having to worry about the back-end software to Ready-to-fit templates and modules of CMS are available to increase productivity and make it simple to get material online
CMS may also be combined with record retention, digital marketing, marketing automation, and artificial intelligence (AI) technologies to enhance website and asset management functionality.
Why do you need a CMS?
Content rules the world! Yes, you've already heard it all. Because it is correct. The content is crucial.
Content makes an excellent first impression on your company. Having organized, scheduled, and fresh content is one of the most difficult issues that every business owners confront.
After your website has been established, it is vital to administer and examine it.
Content Management System (CMS) allows you to analyze and change information in need.
CMS is beneficial in the following ways:
You don't have to be a tech whiz to use CMS.
A website can have many content managers more than one.
Has easy-going site maintenance
Complete control over your material.
What factors should I consider when choosing Content Management System (CMS)?
Content Management System (CMS) provides a set of techniques for collaboratively monitoring workflow. These operations can be done manually or with the help of a computer… Isn't it simple to follow?
So here are a few things to think about while choosing a content management system:
What do you want to achieve with your website? 
Whether it's marketing, eCommerce, or creating a full-fledged business with your website, you need to know what you're aiming to achieve or what the main purpose of the site is before you begin. It makes the next stages a lot simpler.
Proprietary or Open Source
There are primarily two sorts of CMSs to consider while selecting one.
One is "Open Source," in which a social community of coders contributes to and grows the CMS, which is freely available to use.
The other is "Proprietary, or Commercial," in which a single corporation develops the CMS and charges a license price to use, modify, or build on it.
Furthermore, many distinct CMSs specialize in different areas.
Some people flourish in one area but struggle in another, while others excel in one area but struggle in the other. They all claim to be able to handle everything, from the smallest of small company websites to the largest of large corporate websites. That brings us to the next thing to consider…
CMSs Accomplishment 
How much time do you want to spend working with the CMS? Some CMSs need the presence of a couple of coders, as well as maybe an administrator, who will be continually interacting with the CMS and your company. Some demand far less coding expertise and, as a result, fewer dedicated resources. With certain CMSs, a marketing person could easily upload content to the site, while with others, an administrator would be required to accomplish exactly what the marketing person needed.
Are you just looking to create a simple website or something more substantial?
Creating a website is a fantastic experience. In today's environment, when innovation is happening all the time, many businesses are trying to go even further and build unique website apps.
A web application is anything that performs a certain task, such as entering a zip code into a website and receiving a map showing the lowest gas prices.
CMSs may be used as a platform to do this, because of the resources available for free and without a license cost, Open Source frameworks make it much easier to create web apps.
Pricing element you need to check-on
Many content management systems, like any other software on the internet, are free to use, but only in their basic version. You must pay for complete control if you want it. You'll have to pay for the greatest and most attractive layouts; otherwise, you'll have to make compromises you don't like, or you'll have to make do with a WordPress site.
You'll also need to get a domain name that corresponds to your website. If you don't already have in-house staff or professional experience in the field, this includes the cost of hiring someone to design your website and manage all of the visuals for you.
If you're not careful, this operation might end up costing you much more than you anticipated.
Which Content Management System (CMS) is the most popular?
This list of below best CMS platforms (content management systems) is for you if you're anxious to get your stuff out there but aren't sure which tool will be the most beneficial.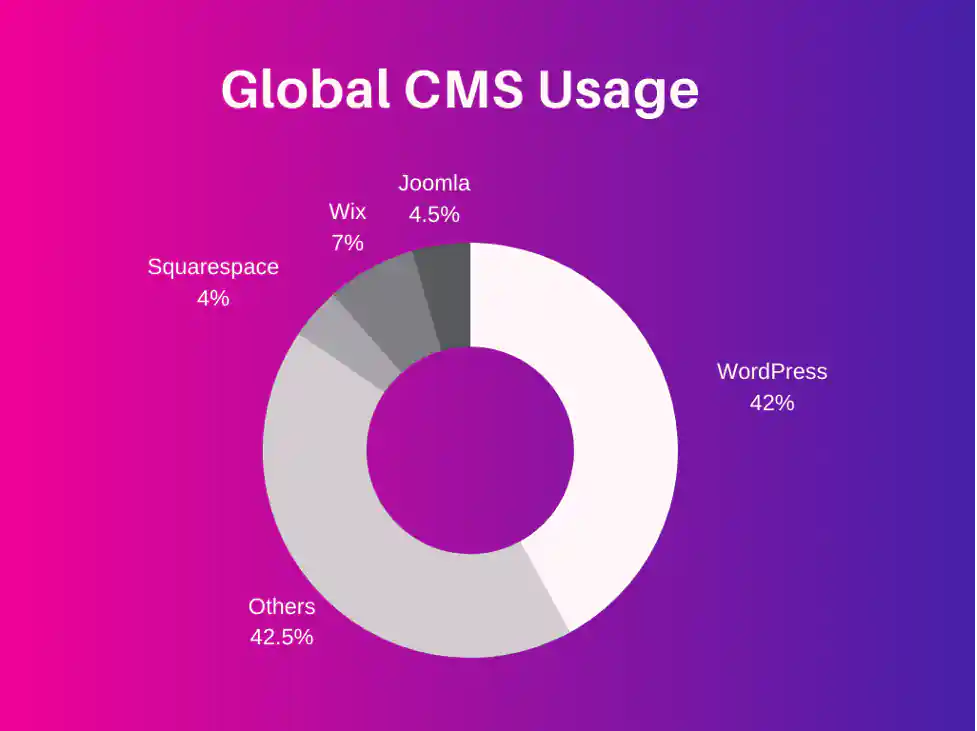 Image Source: Siteefy
It's safe to say that everyone has heard of the WordPress content management system. More than 30% of all websites on the internet are hosted using this CMS.
This CMS is created using PHP. It also assists users in creating a functional website for publishing text, audio, and video material, thanks to its numerous features and capabilities.
WordPress was created with the intention of being used as a blogging platform. However, WordPress has grown in popularity to the point that it is now used by large corporations.
Do you know?
A huge percentage of 14.7% of all the world's top million websites are powered by the WordPress CMS. – Source (Siteefy)
Advantages of WordPress:
WordPress users have total control over their website's appearance and functionality.
WordPress can be used to create any form of website whether it is a store website, blog website, etc.).
Visitors may build their websites using one of the hundreds of themes.
The ability to drag & drop has simplified the process of building a page in this application.
Users get access to over 50000 free plugins that may help them enhance every area of their website.
WordPress can be used to create multilingual websites.
Many of its features, including its core, are available for free.
It is always improving and being updated.
It has fantastic blog features.
It enables you to schedule your postings.
An easy-to-use dashboard.
Drupal is a well-known content management system that debuted in the year 2000. It isn't as well-known as WordPress, but it has so many useful features that people prefer it to alternative content management systems.
Drupal's page loading and response times are lightning-quick. This content management system is suitable for file sharing, cloud storage, and magazine websites.
This CMS can be utilized by large corporations. Drupal has effective and progressive teams working to enhance its algorithms on a regular basis. Users must have some specific expertise to fully utilize Drupal's capabilities, unlike its competitors.
Advantages of Drupal: 
It provides proprietors with total control over their users.
There are over 6000 plugins available for this CMS.
Categorization outperforms its competitors by a wide margin.
It is far superior to WordPress and Joomla in terms of security.
Provides outstanding assistance.
It has a significant user base.
Allows users to be assigned roles.
When we think about content management systems, we think of Joomla. In 2001, Joomla faced significant competition from WordPress.
Joomla has a lot of customization options. This CMS can handle any website, such as (blogging, magazines, company, university, and even small businesses).
Installing and starting this CMS is as straightforward as installing and launching WordPress. Joomla supports multilingual websites without the use of any plugins. Joomla also allows users to create content using numerous templates.
Advantages of Joomla:
Over 6000 plugins
Excellent support
Great professional user management
Offers support for customized themes and layouts for each page
Option to assign responsibilities to your users
Wix is one of the most popular and successful website builders on the market.
It is HTML 5 compatible and includes several plugins and business strategies.
Wix allows users to drag and drop elements to create their website. Even if you don't have the time to create your website, you can provide Wix with enough information and the CMS will do so for you.
It's designed for people who are serious about digital marketing, email marketing, and form submissions. Your text, audio, and video material can all be managed using this CMS.
Advantages of Wix:
Offers great free plan to start from
Hundreds of templates are available for a variety of enterprises.
In recent months, Wix Turbo was developed, substantially increasing the performance of this program.
It provides outstanding assistance.
It includes several plugins and apps that can help you improve your site.
It allows you to change the role of your users same as WordPress.
Shopify is a powerful e-commerce platform with a plethora of useful features. The Shopify platform is utilized by over 800,000 businesses worldwide, according to Shopify research.
It's a one-stop shop for anything related to eCommerce. Small businesses can use a single dashboard to set up their online storefronts, manage their items, and manage all orders.
Shopify's free connectivity with eBay and Amazon without the need for proprietary coding is a significant benefit. Owners of stores can easily attract good clients and increase revenue.
Advantages of Shopify
Provide a variety of stylish, professional, mobile-friendly themes
Empower customers with a variety of apps covering a wide range of issues, including marketing, accounting, inventory management, shipping, and more
Shopify provides 24*7 support
Magento is widely recognized as the most popular open-source eCommerce platform. The system is written in PHP and allows store owners to easily establish their online enterprises.
The system is suitable for organizations of all sizes and meets the needs of B2B, Omnichannel, and Mobile Commerce.
Furthermore, Magento enables the integration of different third-party extensions, resulting in unique digital retail experiences.
There's also a large Magento Marketplace where you can acquire a wide range of extensions.
Advantages of Magento
Magento is a feature-rich and powerful platform
It is SEO-friendly and quick to load
On a Magento shop, users may personalize practically every feature they want.
With various extensive reporting options, store owners can receive all information, including orders, customers, and items.
Magento provides solutions that grow with the needs of clients' enterprises.
Help, FAQs, documentation, and everything else you need to know about this platform can be found here.
Weebly is a simplified content management system that allows people to create websites without needing to know how to code. If you know how to drag and drop, you can make a website in minutes. Webpages are hosted by Weebly on its servers. Because this CMS is so responsive, it's ideal for blogging, e-commerce, and magazine websites.
Advantages of Weebly:
You don't have to install any applications with this CMS
It has nice templates
It has a free plan
Supports digital marketing
contact forms, galleries, and sliders can be used without requiring the installation of any plugins.
Squarespace is a popular content management system released in 2004.
Unlike the other CMSs, it does not provide a free plan; instead, customers must choose from one of their premium monthly plans.
Squarespace is an easy-to-use platform that is perfect for newcomers. However, because it is not open source, you will not be able to host it on your server.
Advantages of Squarespace:
This CMS provides excellent website security.
It has a variety of themes for various topics.
Users have the option of using different themes on their websites.
Using this CMS, creating, editing, and publishing material is so easy.
There is also a free SSL certificate provided.
It offers a variety of analytic services.
Wrapping up,
Selecting the best CMS is a challenging feat. Considering the aforementioned considerations may assist you in determining which CMS is suitable for your company and users.